ONCE WE WERE ISLANDS
ACTIONS FOR THE WORTHLESS BODY
logbuch woche  01.
As ONCE WE WHERE ISLANDS, we: Chris Gylee, Richard Aslan, Alexander Carrillo, and Ana Berkenhoff meet in Oldenburg. We are artists from different professions: choreography, dance, stage design, writing, fine art, performing, and we are interested in the common aesthetic approach to our work.
Our work is about work.
ACTIONS FOR THE WORTHLESS BODY: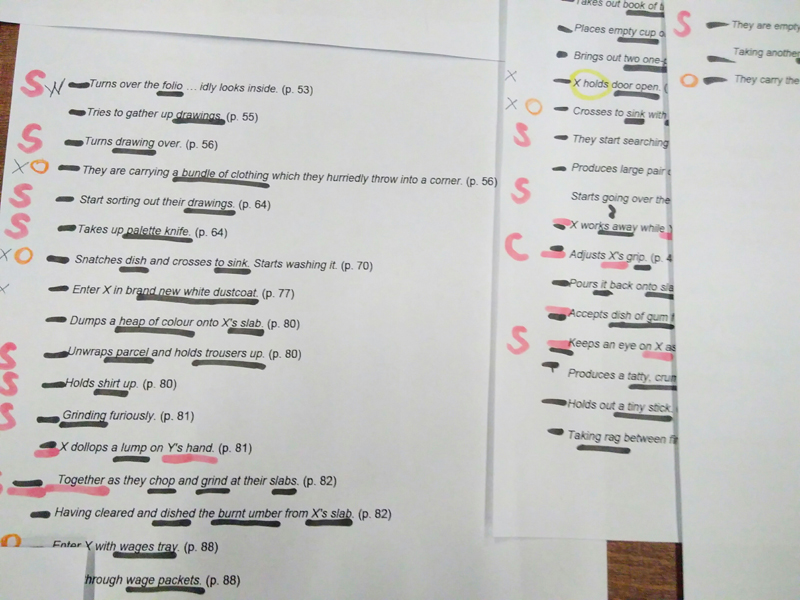 CHRIS: starts going over the list of colours in their head
ROSE – right hand raised, fingers waving
ASH – forearms horizontal to the floor
FERN – left hand raised
CRYSTAL – fingers together, crystal shape, wiggling
OIL – draw a circle around the waist
FLINT – grab the forearm, strong
SURF – roll the hands
AMBER – hold a circle up to the eye with both hands
MOON – draw a big circle
MOSS – fingers grow up from the earth
PELT – stroke the front of the body, both hands
JET – right hand zooms forward
MAGMA – hand is burnt! Withdraw and protect
Do the actions and say the words.
Just say the words.
Just think the words.
*****
*****
Love
Dance
Sing
Decorate our clothes
Decorate our bodies
Decorate our homes
Mourn our dead
Care for our sick
Cut our hair
Clean our skin
Cut our nails
Have parties
Build buildings not to live in
Clean up
Tell stories
Have arguments
Bury our dead
Have midwives
Relax
Swim
Enjoy the sun
Feed the dogs
Raise the children
Teach
Learn
Run
Play